The Old Summer Palace, also known as the Garden of Perfect Brightness, was in fact made up of several palaces, each more magnificent than the last. Its construction began in 1709 during the reign of Emperor Kangxi (康熙) and continued for several decades. Before settling Yuanmingyuan for his fourth son, the future Emperor Yongzheng (雍正 帝), Emperor Kangxi (1654-1722) enjoyed to spend time outside the Forbidden City, north of Beijing in the Garden of Exhuberant Spring (暢春园) which was then also looted by Franco-English troops.
The Old Summer Palace is as majestic as Versailles. The French writer Victor Hugo compared it to the Parthenon, the Pyramids of Egypt, the Colosseum in Rome or Notre-Dame in Paris.
Covering 350 hectares, more than eight times the size of the Forbidden City, Yuanmingyuan was home to nearly a thousand buildings. It was actually a small town with silk workshops, theaters, and schools. There were also markets here, the Emperor and his relatives could enjoyed the buzzling atmosphere of city life. Yuanmingyuan was the park where the Emperor used to reside when he was not performing rites in the Forbidden City. As a result, he ruled the empire from the Old Summer Palace, and several ministries could be found in the park.
This is how Jean-Denis Attiret (1702-1768), a jesuit priest in Beijing, described this place. Indeed, many scenes were arranged in the various gardens which were home to extraordinary flora and fauna. Thus, magnolias and rare species enhanced the whole park. Likewise, peacocks, pheasants, and deer were present in Yuanmingyuan. There were also elephants offered as tributes by rulers from Southeast Asia. Kiosks, palaces, marble bridges punctuated the parks.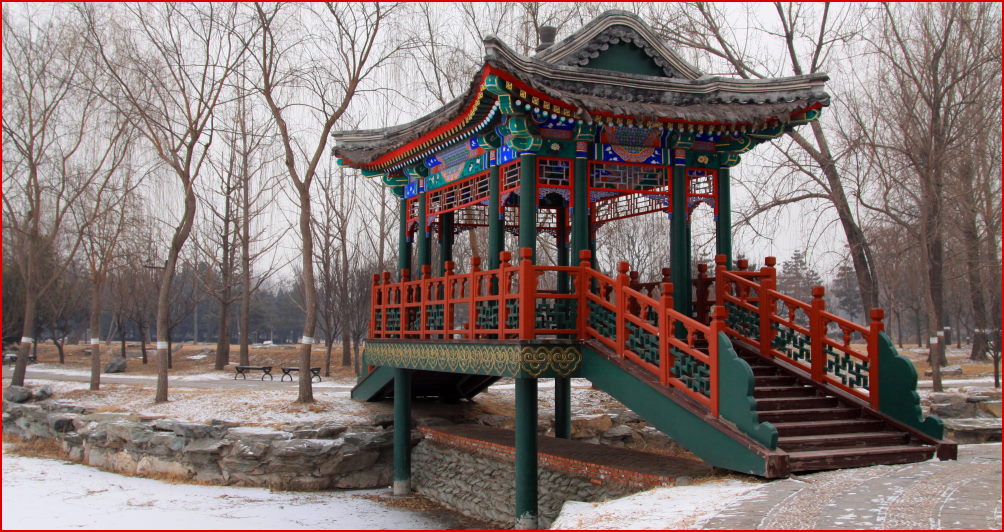 Unlike the French formal gardens, the Yuanmingyuan gardens blended Eastern and Western elements without seeking to magnify the buildings. Rather they created multiple scenes, or landscapes, very different from each other. Although entirely man-made, there were lakes and hills designed to recreate wild landscapes or existing landscapes like the West Lake in Hangzhou. These gardens responded to the principles linked to "fengshui". They were, of course, used for strolling, but they were also places for meditation.
The Old Palace, also known as the "garden of the gardens" was made up of three very distinct parts, the first being the Garden of Perfect Clarity (strictly speaking this name of would subsequently refer to the entire site), the Garden of Eternal Spring, and finally the Garden of Elegant Spring. Each garden had its own characteristics.