Many artefacts have disappeared forever in the looting and burning of the Old Summer Palace. Silks, sculptures, porcelains have been broken or burnt. Other artefacts were looted and British and French soldiers returned to Europe with trunks full of these riches. Subsequently, these artefacts have either changed hands numerous times or are lying in attics.
Looted artefacts in museums abroad
However, some of the artefacts were stolen to be handed over to Queen Victoria and Empress Eugenie, wife of Napoleon III. Today, for example, many artefacts from the Old Summer Palace can be found in museums in Europe and elsewhere, but also in private collections.
In the United Kingdom, the Victoria and Albert Museum exhibits some of these artefacts. In France, you can find certain items, particularly of a military nature at the Musée de l'Armée in Paris, but it is mainly at the Chinese Museum of the Château de Fontainebleau that the stolen items given to Empress Eugenie are exhibited. This museum, inaugurated in 1863, is one of the most important in Europe and has allowed many European visitors to discover the art of China that has long gone unrecognized.
Back home?
The question regarding the restitution of looted artefacts to China arises. Should this heritage remain outside of China? Should we exhibit items in European museums in order to evoke in more depth the sack of the Summer Palace?
After the fire of 1860, local bandits also seized the remains, which means that some pieces are still in China.
China has repurchased some artefacts presented in auctions abroad to bring them back to the country.
In 2010, the Chinese government appealed to collectors around the world to have stolen artefacts returned home. In 2019, the family of Stanley Ho, a tycoon from Macao, gave the authorities in Beijing a bronze horse head statue from Yuanmingyuan, which their father had purchased in 2007.
Growing awareness
Pieces from the looting of the Old Summer Palace can still be found in auction catalogues and in Western museum exhibits. However, a new awareness is growing. In 2013, François-Henri Pinault, CEO of Kering (formerly Pinault-Printemps-Redoute), and son of businessman François Pinault, acquired two bronze animal heads, a rat and a rabbit, which had been stolen during the looting of the Old Summer Palace. Mr. Pinault handed these over to the National Museum of China.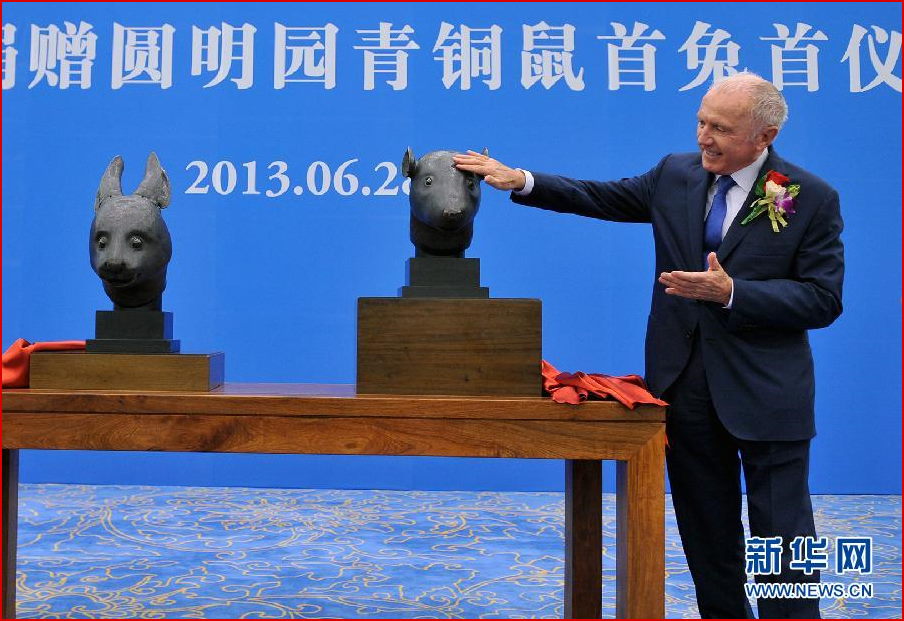 Cultural dialogue
Cooperans, the coordinator of the Yuanmingyuan project, cannot comment on this issue. It can only be resolved through increased bilateral cooperation between China and the countries where these artefacts are currently present. However, Cooperans invites all parties, and in particular European museums, to give better explanations to visitors about the looted items.
Cooperans supports Chinese and Europeans in this dialogue and in highlighting this episode in history that is still unfortunately little known to the European audience. Our consultancy offers its services for cultural promotion projects.
Cooperans supports project stakeholders concerned with issues of restitution of artefacts in Europe, Asia, and the rest of the world.